Why SSStory Is the Best Instagram Viewer StoriesIg?
There are a lot of reasons why SSStory is the best Instagram viewer, Let's take a look at 4 of them!
No registration needed
No registration needed, view the feed and stories without logging in or installing an application.
100% anonymity
You will be completely anonymous. Just enter the username you want to see on SSStory and you can see their stories, no need to follow – no following required!
Loading capability
You can download ig stories and posts to your computer, phone (iPhone iOS, Android) or laptop.
Free high quality download
We always provide the highest possible quality for our users, Try and feel
About Story Viewer
Website SSStory is a new app that allows you to view Instagram Stories anonymously It's simple to use - just enter the username of the person whose stories you want to see and hit View now You can also watch stories from people who you follow.
Even if they don't follow you back SSStory is perfect for keeping up with friends, family and your favourite celebrities without them knowing! So what are you waiting for? Use SSStory now and start Instagram Stories stalking Anonymously!
Instagram Story Viewer The Best Way to View Stories Anonymously
If you are looking for an easy and anonymous way to view Instagram stories, then you SSStory.io is the best choice for you. We'll just show you anyone's Instagram stories they never knew.
SSStory is not only completely anonymous, but super simple to do Just follow the steps below and you'll be up and running in no time. So what are you waiting for? Start now!
Enter the Link Instagram Profile / Username that you want to see their Story anonymously so they don't find out in the Search Bar
Click View Now
View and Download if you love that photo or Video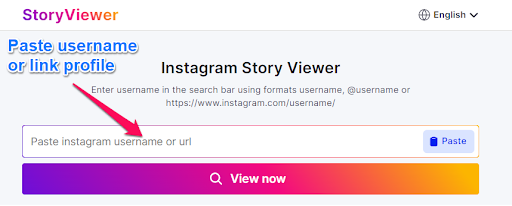 Paste and viewer story Instagram on the SSStory.Io
How SSStory Can Help You Stalk Instagram Stories Anonymously
If you're interested in stalking Instagram Stories anonymously, then you need to check out SSStory. This website is a great way to view Instagram stories without having to worry about the person who posted them knowing that you've seen them. Plus, it's free to use!
The Benefits of Using SSStory to View Instagram Stories
If you're looking for a way to view Instagram Stories without being seen, SSStory is the perfect solution With SSStory.
You can anonymously view any public Instagram story without leaving a trace Plus, you can even download stories and save them for later Keep reading to learn more about the benefits of using SSStory to view Instagram Stories
The Advantages of SSStory Over Other Instagram Story Viewers
There are many advantages of using SSStory over other Instagram story viewers
SSStory allows you to view anyone's stories anonymously without them knowing
You can also download and save or view instagram stories, as well as view private accounts and see who stalks your profile the most
SSStory (ig story viewer) is a great tool for staying up-to-date on what's happening with friends, family, and celebrities without having to follow them on Instagram
Frequently Asked Questions
Very simple. you just need to go to SSStory.Io enter the username of the person you want to follow and click View Now, We will show their Story to you and allow you to Download for personal non-commercial use.
Instagram Story Viewer allows you to view and download IG stories, highlights, live streams (feed), publications, and photo albums from any page opened on Instagram.
No, you don't have to provide your account on Instagram. You just need to know the username of the user you need. Because this is a tool Instagram Story Viewer Anonymous
Inst Viewer (Insta stalker) supports all devices From PC (Windows, Mac OS) to phones (Android, iOS, Windows phone)
Yes, you have the opportunity to download stories, IGTV, Reels, photos, videos and view instgram stories if the person's account is not anonymous.
Oh no, The use of this service does not require registration and is completely free. view instagram stories fast and anonymously
Downloading any files is recommended for personal use only.!
We recommend that you do not use other people's stories/photos/videos, as the rights to the downloaded materials belong to their owners.
The files are downloaded with the best quality! MP4 format - videos, and photos are downloaded in PNG or JPG format.